Enterprise Suite
The advanced order management tools and features needed to run and grow a complex service organization...even better.
Work with our team to take the ServiceLive platform to the next level. Design a configurable service order routing and management solution with the features to make your team more productive and offer a better experience to your customers. Leverage our nationwide service provider network, or bring your own providers and partners onto the platform to create your own on-demand workforce. It's the control and quality you want, and it's all at your fingertips. Start growing both your top and bottom line today.
Features
Select Provider Network allows you to create a customized, on-demand workforce with tiered routing based on your preferences and training requirements. Use our pre-screened network of providers or bring your own.
Advanced service order management tools allow us to configure a solution to meet your needs. Service Order Templates allow you to define and structure your service orders based on SKU, vertical or custom reference field. Workflow Monitor provides advanced service order management capabilities and queues that help your team manage large order volumes with speed and efficiency.
Auto Routing allows you to post orders to your provider network or the Marketplace based on your criteria without the need for manual selection. Direct Auto Routing allows you to create exceptions to directly route certain orders to specific providers (internally or externally).
Our Customer Sales Portal is a configurable commerce solution that helps you sell more services. It allows you to create and customize a private-label online or on-site experience for your customers to select from SKU'd services, which are then automatically injected into the platform.
The ServiceLive Rapid Onboard process from our Professional Services team and a dedicated account representative ensures a smooth transition and in-depth training process for your team.
Real-time status updates give you the control you need to make better decisions for your company and your customers. Advanced reporting tools allow complete transparency into your service order lifecycle and historical data.
Our flexible integration options can be as simple as uploading an excel spreadsheet or API integration to more complex custom development options.
How Order Routing Works
The ServiceLive platform allows you to choose from a variety of routing options to best suit your needs. Create your own customized on-demand workforce using our Select Provider Network, and leverage our top-rated service providers, or bring your own partners onto the platform.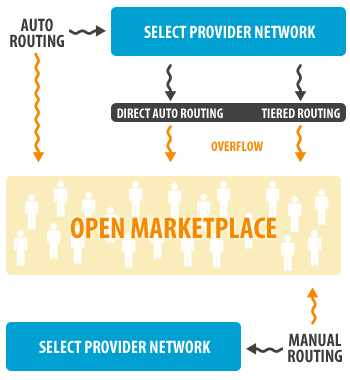 Auto routing enables you to post orders to your network or the open Marketplace without manual effort. Within your Select Provider Network you can activate tiered routing to your specifications. You also can set exceptions with Direct Auto Routing, such as a market where you have an existing contract with a provider, so only that provider receives the order. Make sure that your order gets to the right providers without any hassles through our flexible routing options.
More Information
Industry Solutions
Products