IT & Computer Services
The Challenge. IT companies have traditionally found it difficult to expand service area and service offerings as a result of being tied to the areas and skills their W2 techs can cover or a less than manageable or scalable outsourcing solution.
The Smart Growth Opportunity. The ServiceLive platform gives you the ability to deliver highly scalable, best-in-class service to your customers regardless of their location or service required. Take advantage of the world-class order routing and management tools we offer to drive productivity for your dispatchers and improve your customer experience.
ServiceLive's provider network offers a wide variety of related verticals as well. Do you need electrical wiring done before you can install a new computer or printer? Or painting or drywall work done after an installation? Find the right providers for your needs on ServiceLive.
You can manage the service experience in-house through our Marketplace or Enterprise Suite solutions, or we can develop a managed service experience for you through our Complete Care.
The control and quality you want, and it's all at your fingertips. That's why ServiceLive is the smarter way to grow your services business.
Key Benefits
Grow your existing services business – both service area and service offerings
Leverage our nationwide network of on-site service providers across a wide variety of skills who have passed a background check
Find the right providers for your business and your customers by reviewing our extensive profile information, including ratings, reviews, company data, certifications, licenses, insurance levels, languages spoken and more.
Minimize IT support costs by deploying a scalable and reliable Software as a Service (SaaS) field service solution
Leverage Marketplace dynamics, which encourage competitive pricing
Improve productivity in buyer and provider call centers
Streamline operations with real-time visibility into every service order to better manage status and next steps
Manage the service peaks and valleys more efficiently
Pay Providers electronically and immediately with the click of a mouse through our online payment platform*
Get up and running on the platform in just days
Services
Desktop and Laptop Support
Diagnosis
Operating systems
Troubleshooting issues/lockups
Printer and Copier Support
Installation
Configuration
Testing
Maintenance
Troubleshooting
Ordering
Replacing units (toner cartridges and maintenance kits)
Data Back-up
Data protection
Backup capacity
Security
Encrypted files
Remove solutions
Recovery access
Software Installation and Upgrades
Cable Installation and Management
Wiring
Hardware installation
Testing
Network monitoring and management
POS Systems
Staging
Installation/de-installation
Maintenance and Upgrades
Redeployment
Support Tools
The ServiceLive platform gives you the tools to manage your service orders smarter. The Service Order Monitor provides real-time updates on every service order and highlights any buyer next steps. Our IVR system allows service providers to update their status as they arrive at a customer's location and when a job is complete. Custom reference fields allow you to create your own public or private fields for your service orders.
Advanced service order management tools allow us to configure a high-volume solution to meet your needs. Service Order Templates allow you to define and structure your service orders based on SKU, vertical or custom reference field. Workflow Monitor provides sophisticated service order management capabilities and queues that help your team manage large order volumes with speed and efficiency.
Our flexible integration options can be as simple as uploading an excel spreadsheet or API integration to more complex custom development options.
ServiceLive's Select Provider Network allows you to create a customized, on-demand workforce with tiered routing based on your preferences and training requirements. Use our pre-screened network of providers or bring your own.
You decide how to route your orders. Auto Routing allows you to post orders to your provider network or the open Marketplace based on your criteria without the need for manual selection. Direct Auto Routing allows you to create exceptions to directly route certain orders to specific providers (internally or externally). Or enter them manually, if you'd prefer.
More Information
Industry Solutions
Products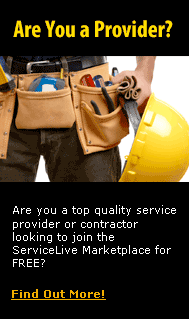 *Powered by Integrated Payments Systems, Inc. Licensed as a Money Transmitter by the Banking Department of the State of New York and other applicable State regulators.